Famous FIFO Rack, Industrial Rack Manufacturer, Distributor & Exporter in Raipur, Chhattisgarh
Vertex is the leading FIFO Rack Manufacturer, we are engaged in producing the high quality of FIFO pallet utilizing latest cutting-edge technology and provide across the globe in cost-efficient price. Our FIFO Rack is used for food processing, manufacturing and merchandise which might be moved through a date stamp or a batch. In our presented racks the goods and materials are usually stored in bins and the binds are arranged one after the other. Further the bin is vacant it is frequently impassive and is replaced by packed bin next to it.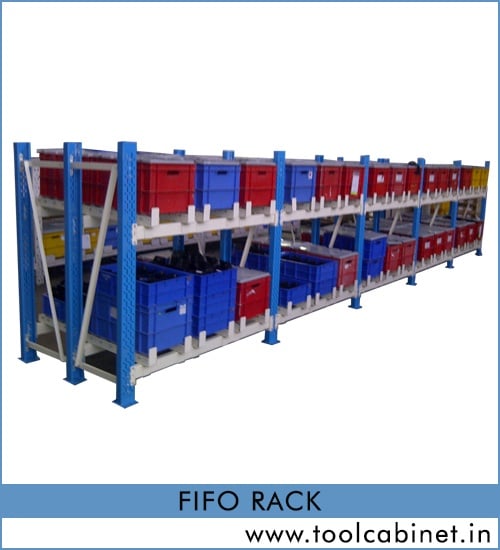 These racks are used as gravity to shift material towards fronts devoid of manpower. Depending on the flecked demands, these FIFO racks are outfitted either with shelves, gliding rails, or roller tracks and work as per the FIFO principle (First-in-First-out). An uncomplicated solution to recover your manufacturing flooring without transferring walls is to retailer your product in a high capacity first in first out storage medium.
Our FIFo Racks are hugely preferred for bulk storage and where the stock movement is high. These FIFO Rack is made from finest material and are sternly tested on worldwide parameters.
Used in assembly live in any engineering.
Maintain first in first out.
It is custom built.
Suited for units that need continuous feed of raw material
Easily moving roller base
Robust built
User friendly
Made from finest metal